Non-payment and whereabouts unknown
31 August 2020
Law Enforcement Agency (if applicable): N/A
Case Number (if applicable): N/A
Full Description and Details of the Incident
Books sent on credit, subsequently refused to pay or return the book
Description of Suspect (if applicable)
Independent bookseller in Portugal
If any of the listed items have been found or if any further information is available, please contact ILAB or the reporting organisation / business.
For any further enquiries about the listed incident and its allocated missing items, please contact the ILAB Secretariat at secretariat@ilab.org
Missing Items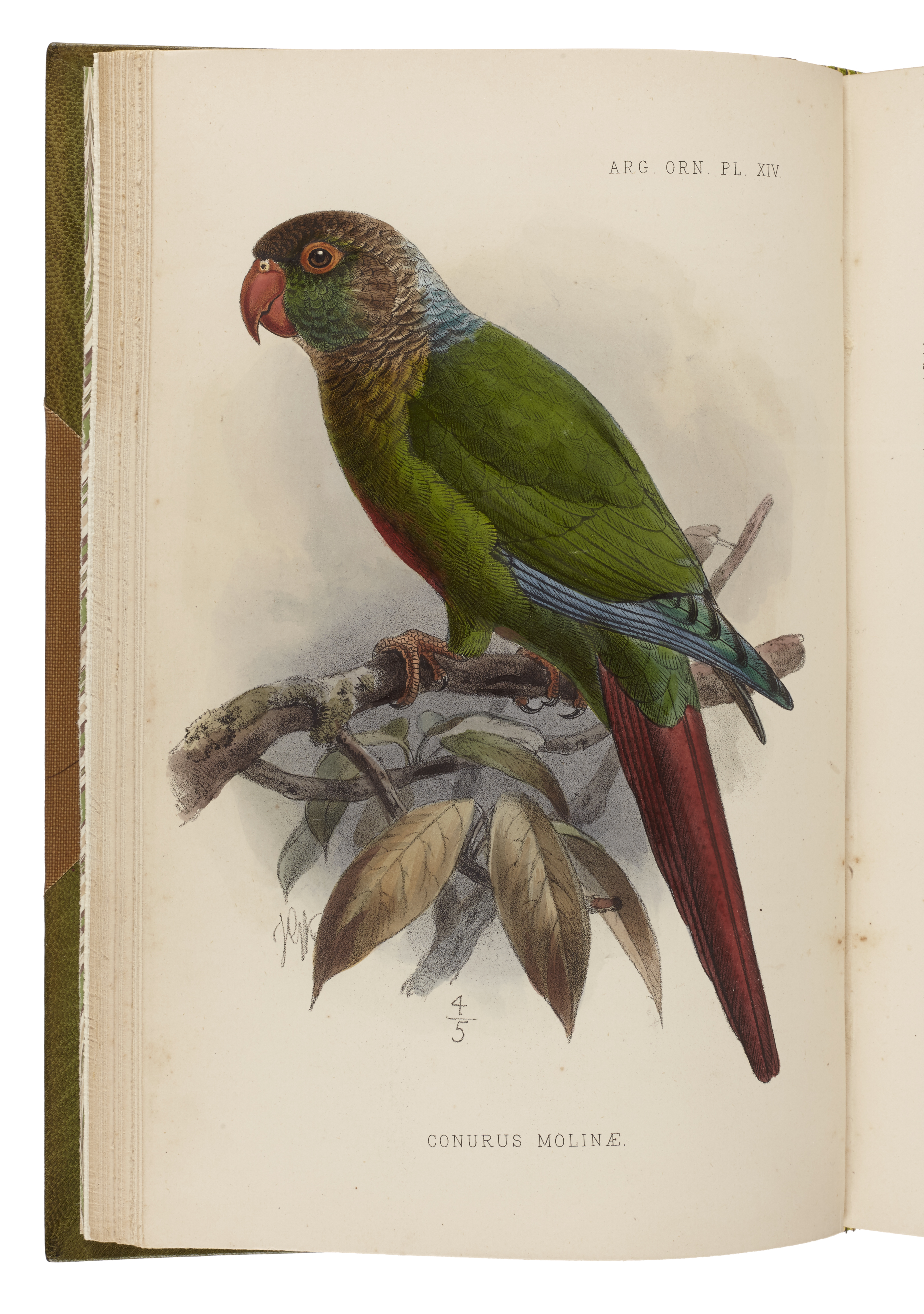 Argentine Ornithology: A Descriptive Catalogue of the Birds of the Argentine Republic
2 volumes, 8vo (248 x 157mm), pp. I: [2 (limitation statement, blank)], xxiv, 208; II: xv, [1 (blank)], [2 (plates, blank)], 251, [1 (imprint)]; 20 hand-coloured lithographic plates by and after John Gerrard Keulemans heightened with gum arabic, wood-engraved title-vignettes by Pearson after Joseph Smith, wood-engraved publisher's device on verso of titles, wood-engraved illustrations in the text; occasional spotting or marking on text and plates, generally light but more obtrusive on p. 38, and plates IV, VI-VII, and X, a few short, marginal tears on text, short tear on pl. XIII touching image; 20th-century British half crushed green morocco gilt over cloth boards by Sangorski and Sutcliffe, spines gilt in compartments, lettered directly in 2, others decorated with tools of birds, marbled endpapers, top edges gilt, others trimmed; extremities minimally rubbed, spines slightly faded, otherwise a very good set, retaining the limitation leaf, which is sometimes absent;.
Identifying Characteristics
No. 142 of 200 copies signed by Sclater and Hudson. Occasional pencilled annotations in a twentieth-century hand.
| | |
| --- | --- |
| Edition | First Edition |
| Publication Date | 1888-1889 |
| Status | missing |
| Publisher | London, Taylor & Francis for R.H. Porter |

Résumé d'ornithologie [and] Iconographie des oiseaux
2 vols, 16mo, pp. I: [12], 300, II: [4], 18, [2 (blank)], pls XLVIII; woodcut frontispiece to vol. I and 48 lithographic plates; light spotting, toned in places, short marginal tear to II, B1-4 (not affecting text); an excellent, unopened set in publisher's printed wrappers with woodcut vignettes; slight spotting and dust-staining, spines lightly sunned.
Identifying Characteristics
Seller's pencil marks.
| | |
| --- | --- |
| Edition | First Edition |
| Publication Date | 1829 |
| Status | missing |
| Publisher | Paris, 'au bureau de l'Encyclopédie portative' and Bachelier |

The Ornithology of Francis Willughby
Folio, pp. [12], 441, [1 (blank)], [6], with 2 letterpress tables, and 80 copper-engraved plates (plate LXXVIII supplied in woodcut facsimile, 2 plates of snares loosely inserted), several later engravings bound in or inserted; title printed in red and black; several leaves supplied (loose), neat repairs to L4 and 2O3 with minor loss, marginal tear to R3, plate XXI repaired at corner (not affecting plate), plates XXVIII and LVII trimmed within platemark at fore-edge (with no loss of engraving); contemporary British calf with panel roll-tooled in blind, neatly rebacked and recornered, spine blind-tooled in compartments, lettered directly in gilt, endpapers renewed; corners lightly bumped, old calf scuffed and scratched.
Identifying Characteristics
A few early annotations. Seller's pencil marks.
| | |
| --- | --- |
| Edition | First Edition |
| Publication Date | 1678 |
| Status | missing |
| Publisher | London, A.C. for John Martyn |