Library theft - Charles Dickens
04 September 2021
Law Enforcement Agency (if applicable): N/A
Case Number (if applicable): N/A
Full Description and Details of the Incident
Senate House Library at the University of London has informed the ABA and ILAB about a theft of the following 2 items (see below). The theft occurred on the afternoon of Saturday 4 September 2021.
If any of the listed items have been found or if any further information is available, please contact ILAB or the reporting organisation / business.
REPORTING ORGANISATION / BUSINESS: Senate House Library
Contact: Dr Karen Attar
Email: karen.attar@london.ac.uk
Phone: 020 7862 8472
Missing Items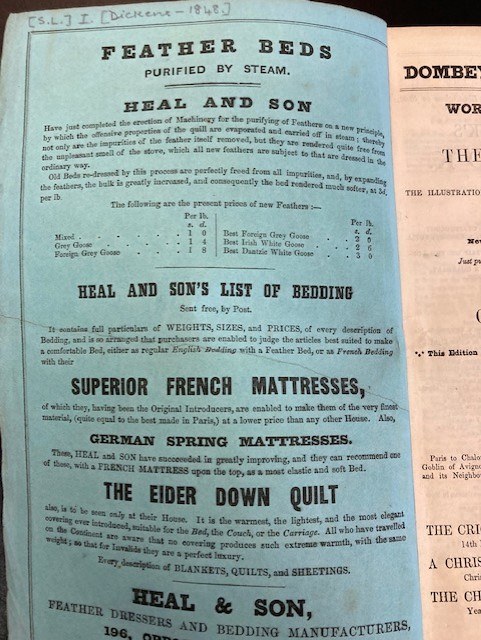 Dombey and Son - Parts 2 and 3
Parts 2 and 3 of the original parts of "Dombey and Son" (i.e. Dealings with the Firm of Dombey and Son: Wholesale, Retail and for Exportation), Nov. and Dec. 1846. The parts are quite a bright blue still. The measurements are 22.4 x 14.3 cm. On the top left of each inside wrapper the following had been written in pencil: [S.L.] I [Dickens – 1848]. The writing sprawled, so would be (or would have been) between 67 and 72 mm long. There were no other ownership markings.
Identifying Characteristics
Attached are photographs of the library's copy of Part 4 of Dickens's "Dombey and Son", to show the blueness of the cover and the location of the marking.
| | |
| --- | --- |
| Edition | Other |
| Publication Date | 1846 |
| Status | missing |
| Publisher | |